Trombones - Jeff Cressman, Mike Rinta, Derek James, Jamie Dubberly
Jeff Cressman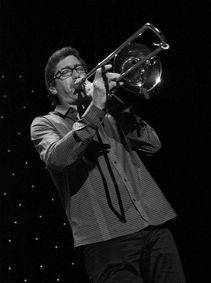 Cressman is a unique talent who is equally in demand as a trombonist and as a sound engineer. Jeff is a native of San Francisco who began playing trombone in the same Berkeley Public School Jazz Project that encouraged such contemporaries as Peter Apfelbaum, Benny Green and Joshua Redman. In 2000, Jeff began working with Carlos Santana, playing on the sold-out "Supernatural" tour with him in the U.S. and Europe, as well as world tours from 2002 through 2009. During his professional career, Jeff has performed a wide variety of musical styles, with such artists as: Tito Puente, Poncho Sanchez, Carlos Santana, Israel "Cachao" Lopez, Pete Escovedo, Sheila E., Don Cherry, Peter Apfelbaum and the Hieroglyphics Ensemble, The New York Composer's Orchestra West, Jon Jang and the  Pan-Asian Arkestra, Jai Uttal and the Pagan Love Orchestra. 
Mike Rinta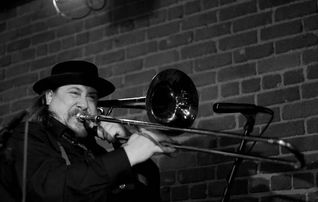 Mike Rinta, a trombonist & arranger is native to the San Francisco Bay Area and has been freelancing for over 25 years. He has toured the United States, Canada, Europe, Africa, and Asia with many bands such as Sly & The Family Stone, Howard Tate, John Lee Hooker Jr. and many others. In addition he has performed or recorded with many greats such as Herbie Hancock, Fred Wesley, Arturo Sandoval, Taj Mahal, Buddy Guy, Elvin Bishop & Santana. His Latin credits include Eddie Santiago, Hector Rey, Larry Harlow, Maelo Ruiz, Lalo Rodriguez, La India, as well as countless others and the list keeps growing!


Jamie Dubberly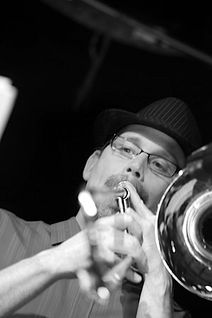 James (Jamie) Dubberly is a versatile trombonist, educator, composer and arranger. He currently serves on the faculties of CSU Stanislaus, and the University of the Pacific. Originally from coastal Georgia, Jamie has been active in northern California as a trombonist in a wide variety of musical settings, since moving to Modesto,CA, from New York, NY in 2003. He is currently a member of bay area groups Avance, Realistic Orchestra (Jazz Mafia), the Afro Cuban Jazz Cartel ( Brian Andres), Somos El Son,and Montuno Swing, among a few others. He toured for several years with many Broadway productions, both nationally and internationally. His orchestral credits include Brooklyn Philharmonic Orchestra, Hartford Symphony Orchestra, Norfolk Chamber Orchestra, Savannah Symphony Orchestra, and has appeared with the Emerson String Quartet, and Brass Ring Quintet. Since moving to CA, Jamie has also performed and/or recorded with many prominent jazz and latin artists, including Herman Olivera, Bobby Shew, Eddie Santiago, Ernie Watts, Tito Rojas, Greg Tardy, Karl Perazzo, Wayne Wallace, and Willy Torres. His own latin jazz orchestra, Orquesta Dharma, has released two albums, which have gained international recognition from the press, and have reached both jazz radio and salsa charts nationwide.
Derek James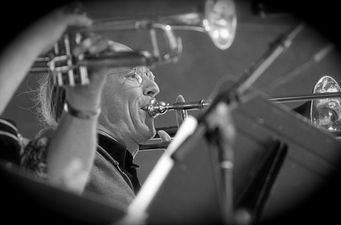 Lead trombonist Derek James began playing with Pacific Mambo Orchestra upon its inception. He performs with Mazacote, Avance, the Contemporary Jazz Orchestra, innumerable local and touring bands of every genre, as well as on Broadway shows, giving him the well deserved reputation of being a consummate all rounder and highly regarded studio session player. Derek was classically trained at the University of Wisconsin at Madison, and played in the Wisconsin Chamber Orchestra, the Madison Symphony Orchestra, and the Shreveport Symphony Orchestra before moving to San Francisco in 1993. His very first gig in his new town was with a salsa band, and he hasn't stopped since!