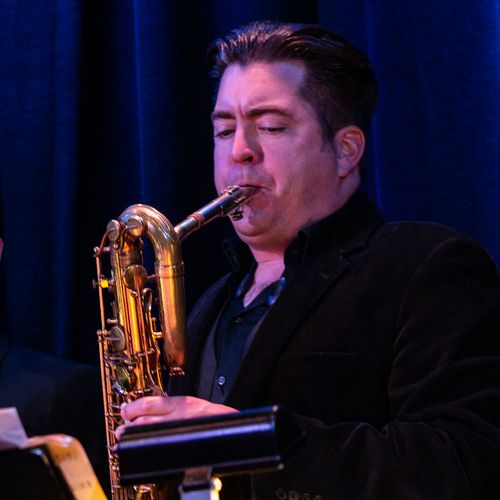 AARON LINGTON
BARITONE SAX
Aaron Joseph Lington received his BM in music education from the University of Houston, Moores School of Music, and both his MM in jazz studies and DMA in saxophone performance from the University of North Texas where he studied with James Riggs. His performing and compositional credits include collaborations with the University of North Texas One O'clock Lab Band, Maynard Ferguson, the BBC Radio Orchestra, the Count Basie Orchestra, Bo Diddley, Jamie Davis, and many others.  
In addition to his position as associate professor at San José State University where he serves as Coordinator of Jazz Studies, Dr. Lington is also a member of the faculty at the Texas Music Festival Jazz Institute, hosted by the University of Houston. Aaron Lington is a saxophone performing artist for Rico Reeds. 
He has won awards for both his playing and writing from Downbeat Magazine, ASCAP, and was the 2003 recipient of the Sammy Nestico Award. He was recognized in the 55th and 57th Annual Downbeat Magazine Critic's Poll as a "Rising Star" in the Baritone Saxophone category. 
Pacific Mambo Dance
Feat. Aaron Lington | Bari Sax
Mr. Lington's bari sax solo on this popular PMO release!
Read more…
Pete Cornell is one of the more versatile and talented Bay Area musicians. He plays: Soprano, alto, tenor and baritone saxophone, clarinet, flute and alto flute, piccolo, and recorder. 
He has performed with the legendary Dan Hicks, and many years with Lavay Smith and Her Red Hot Skillet Lickers, appearing on her recent CD, Miss Smith To You.  He is a charter member and music director of the famed salsa band Mazacote, producing their debut CD, Timbalero. Pete is a widely-experienced and widely-traveled musician, playing music from Japan to Prague to Italy, and has performed at the Monterey, San Jose, and San Francisco Jazz Festivals. 
He currently plays with the 19-piece Pacific Mambo Orchestra (every Monday night at Cafe Cocomo), Cosmo Alleycats (every Wednesday at LeColonial), Tin Cup Serenade, Tin Cup Jazz and periodically with the Golden Gate Jazz Trio and Manteca Quartet.
Bolero Cocomo [Instrumenta]
Feat. Pete Cornell | Alto Sax
Hear the charming sounds of Mr. Cornell's horn on this romantic instrumental ballad.
Read more…
Based in West Oakland, California Tony has been fortunate enough to perform on stage with such artists as Geri Allen, Antoine Roney, Oliver Lake, Andy Bey, Nnenna Freelon, Jamaaladeen Tacuma, and reggae legend Don Carlos. 
He has performed throughout North America, in Europe, Central America and Africa with various projects.  A graduate of the University of Pennsylvania (B.A. Music - theory concentration) and The University of the Arts (M.M. Jazz Performance - saxophone), he now performs with a variety of Bay Area bands.
Muevete Con Prisa
Feat. Tony Peebles | Tenor Sax
Tony imprints the sounds of his saxophone along with his masterful jazz roots on this Latin Jazz descarga.
Read more…