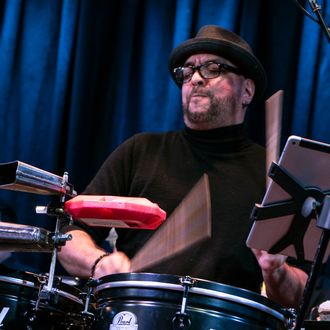 OMAR LEDEZMA JR.
VENEZUELA
Born and raised in Caracas, Venezuela, Grammy-winning Singer and Percussionist Omar Ledezma Jr. has played professionally since 17.
In 1995, Ledezma graduated from one of the most prestigious Law Schools in Caracas, but in 1998 Omar packed one bag and one drum to begin his move to Boston to study at Berklee College of Music. After graduating in 2005, he moved to the Bay Area, where today he teaches at the Community Music Center.
Omar has played, recorded, and toured with local and international artists and founded a group dedicated to the wooden box percussion instrument, the Ka-Hon Ensemble, one of the biggest stars of the Adventures In Music program of the San Francisco Symphony. In 2014, he won a Grammy with the worldwide-acclaimed Pacific Mambo Orchestra.
Omar is also a music accompanist for the San Francisco Ballet Dance In Schools and Communities (DISC) education program and a teaching artist with the Youth in Arts organization from San Rafael, California. Omar is an exclusive artist with Pearl Percussion, Pinchclip, ELH Cowbells, Remo heads, Kandu Cajons, Vater, and Soultone Cymbals.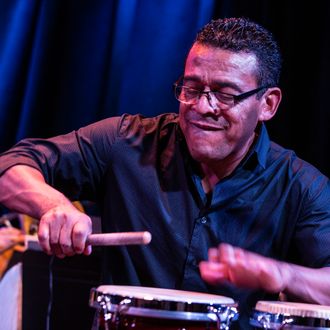 BRAULIO BARRERA
PERU
Born in Peru Braulio Barrera started playing Peruvian folkloric music at age 5 on the Cajon, claves, bell Congas, and Bongos… Once mastering the streets of Peru, he moved to L.A. to play with Chino Espinoza and Tabaco Eron, among many others in the Salsa scene. He's been on endless recordings playing percussion and as lead vocals.
Currently, Braulio plays with Pacific Mambo Orchestra and Montuno Swing weekly. You can hear Braulio's percussion and Lead Vocals on a brand New Track by Montuno Swing written and Produced by Christian Tumalan: Renta de Tula.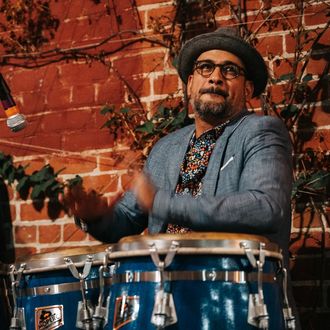 JAVIER CABANILLAS
MEXICO
Cabanillas is one of the San Francisco Bay Area's most respected and busiest congueros, but he still looks for new ways to express his love of percussion." - full featured article in DRUM! Magazine.
Cabanillas has received Four Stars from DOWNBEAT MAGAZINE for his composition "Esto Puede Ser Eso," His music also has been featured on SHOWTIME's "Let The Right One In," NPR, and United Airlines streaming services.
As a performer, he was the principal percussionist for a world premiere musical from New York called GODDESS. He is also the creator and leader of CABANIJAZZ PROJECT, a Latin band that performs an exuberant fusion of Latin jazz harmonies and Afro-Caribbean dance music with all the compositions written by Javier Cabanillas.
As an educator, Cabanillas continues to give back to his community traveling abroad and locally to provide clinics and masterclasses and foster younger generations of jazz artists.
Cabanillas is most recognized for his recording and touring work as conguero in the GRAMMY® Award-Winning for Best Latin Tropical Album of the Year, Pacific Mambo Orchestra. In addition, his versatility, dedication, and passion have allowed him to tour, record and share the stage with John Faddis, Dafnis Prieto, Sheila E., Arturo Sandoval, Alex Acuña, Frankie Negrón, Karl Perazzo (Carlos Santana), Brian Jordan (Lauryn Hill), Ray Obiedo (Herbie Hancock), Adrian Terrazas-Gonzales (The Mars Volta), Tommy Igoe, Tom E. Politzer (Tower of Power), Jerry Gonzalez (Fort Apache Band), Calixto Oviedo (NG La Banda), Louie Romero (Willie Colon, Hector Lavoe, Celia Cruz), Jesus Florido (Whitney Houston), and many more.